Hello and welcome to TACONS, pbojanic!

Please tell us briefly about yourself and what you are keeping.
If you got some pictures you wish to share with us, feel free to post them anytime.
We love to see new fishy pictures here.

Enjoy and welcome to the forum. :cheers:

machzeater

Mods





Number of posts

: 1367



Hello and Welcome to TACONS!!

Wayne

Fishbait

Mods





Number of posts

: 3098




Shamuschili




Number of posts

: 9



Thanks for the kind welcome. Peter Bojanic and Iain Jack here. We have a 16-year-old red-eared slider that we rescued from a friend when she was about the size of a toonie. Now she's about a foot long and nearly full grown.
We got this awesome corner tank a few years ago from Matt (poon), which has been a great home her but she's nearly outgrown the current configuration. Presently the tank is half-filled with water (about 50 gallons) with an integrated rock structure so she can get out for basking. Now I need to fill the entire tank for swimming space and provide an external space for basking. This picture is the initial prototype, with the tank on the floor and the stand next to it.
I was having problems with my Fluval FX5 in this setup since it's at the same level as the water with no gravity to help generate flow. Matt (poon) told Iain it was probably an airlock, which was the right call. I've now got good flow with this configuration and just need to shorten up the hoses to reduce effort for the pump and make it easier to start when the hoses aren't fully primed with water.
I'm also going to build a smaller external basking structure because the tank stand takes up too much space. I'll share an updated picture when the new setup is complete.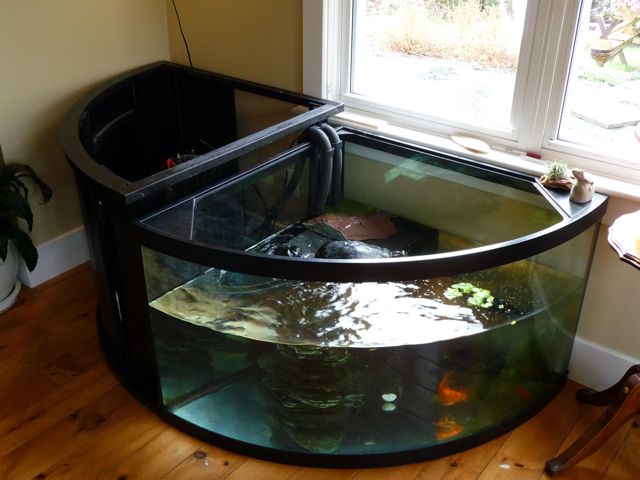 pbojanic




Number of posts

: 2



---
Permissions in this forum:
You
cannot
reply to topics in this forum